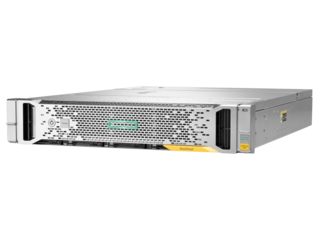 HPE StoreVirtual 3200: Revolutionary Storage Solutions
Businesses need a storage device that's reliable, low-cost, and able to exceed expectations. Fortunately, The HPE StoreVirtual 3200 promises that as one of HP's latest dynamic storage units.
HP have introduced new solutions aimed at small to midsized businesses for their management of storage. The HPE StoreVirtual 3200 is promised to be affordable, manageable, as well as a simplified solution. HP claim that it is able to be setup in a matter of minutes to give customers more benefits. Furthermore, consumers can deploy the StoreVirtual 3200 to their offices in service of their management and storage.
Also, an existing Cashback deal is running live through March for many HPE StoreVirtual 3200 models, this blog shows the claim form, as well as more information regarding this promotion.
HPE StoreVirtual 3200 4-port 10GbE iSCSI SFF Storage Features
The features of the HPE StoreVirtual 3200 are truly remarkable, considering the price you are paying. Some of the most impressive features include:
Multi-controller Architecture: this allows you to flexibly grow your performance as your needs change.
Manage your storage with ease: one screen enables you to manage multiple systems using an intuitive GUI that offers a simple, consumer-driven management experience.
Also, Simplified management with a single user interface and plug-ins: this allows you to manage your storage from within existing server virtualization management consoles.
Click here for the Claim Form.
If you are unsure about selecting the right storage unit, feel free to email your requirements to Support@it-supplier.co.uk. Therefore, we can assist you in finding the ideal storage unit that will improve the productivity and profitability of your business.
Why buy from IT-Supplier.co.uk?
IT-Supplier.co.uk is among HP's most trusted and qualified re-sellers of storage devices in the IT business. Also, as one of HP's Preferred Partners, we are in the top 5% of re-sellers. Consequently, we are able to offer fantastic prices on the latest HPE StoreVirtual products.