HPE ProLiant Gen10 Servers
HPE ProLiant Gen10
The HPE ProLiant Gen10 is the latest addition to the HPE server family. This is the latest ProLiant, and there are claims that it will have better security due to the many new additions. Also, included is a new security feature, and terabyte levels of persistent memory to allow better manageability.
Furthermore, HPE ProLiant Gen10 servers will help your business be agile, adapting your IT to the ever-changing requirements using Intelligent System Tuning and HPE Scalable Persistent Memory.
HPE ProLiant DL380 Gen10 features
-The HPE ProLiant DL380 Gen10 reduces business costs and complexity with up to 71% performance gain.
-Additionally, the ProLiant has an adaptable chassis with new configuration options. Up to 30 SFF/ 19 LFF, or up to 20 NVMe drives along with up to 3 double wide GPU options.
-It utilises the latest technology, using the latest Intel Xeon Processor Scalable Family with up to 28 cores and 3.0 TB of DDR4 SmartMemory.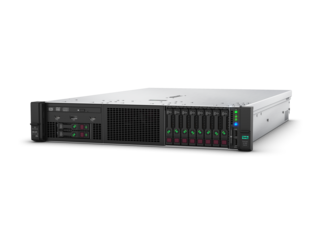 Unsure if this is for you?
HPE have eliminated the issue of a financial problem when deploying their Gen 10 Servers. There is a pay-as-you-go option which enables customers to have an affordable solution. This allows them to scale server resources, while only paying for what they use.
These new 10th Generation ProLiant Servers will be available in the summer. Along with this, the Synergy Compute Modules and the HPE Converged System.
BUYING FROM IT-SUPPLIER
These products are not currently available on the website, although you can still get the previous HPE Gen servers and more. As stated, they will be available in the summer.
However, to discuss further needs with the team, email Support@IT-Supplier.co.uk or call 0203 328 5655. Meanwhile, you can visit our social media pages below and follow to be notified of brand new promotions and offers on our site. Click Here for more Blogs.
 https://en-gb.facebook.com/itsupplierdeals/