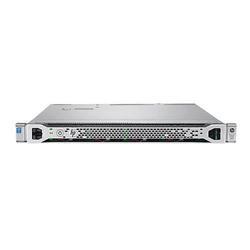 HPE ProLiant DL360 Gen9 Intel Xeon E5-2630v4 Server
Fantastic Multipurpose Rack Servers
The HPE ProLiant DL360 Gen9 rack server is the chassis of choice for many customer usage scenarios within enterprise computing environments. Furthermore, the HPE ProLiant DL360 Gen9 shows a robust and manageable service and often used as a web server, application server, or database server.
The Correct Investment In A Server Provides Confidence For Your Future
For a growing business, scalable computing architecture is very important. This means using hardware servers that are easy to manage, scalable, robust and cost efficient. Your investment in this server platform allows you to grow with the demands of your business. Managing your business is made simpler with the HPE ProLiant DL360 Gen9.
For more information, you can check out the HPE Site here.
Purchasing the right Operating System
Amazing servers on their own would not be much good without the right operating system installed on them. There are many ways in which you can purchase operating systems like Microsoft Windows Server. Customers can purchase these operating systems as a boxed product and install it from the CD. Also, customers can purchase Microsoft subscription OVS or Open licensing agreements. However, a more cost effective way to purchase operating systems is to purchase as an HPE branded operating system.
The advantages of this method of purchasing operating systems are,
Single vendor point of purchase for hardware and software.
Often cheaper to purchase software this way because of manufacturer subsidies.
Hense to fully understand the advantages to your business, talk to our team on 0203 328 5655.
Cashback Offers in March or April 2017
HPE have a solid understanding of the way that hardware and software come together to provide robust solutions that deliver higher ROI is the basis for the offers in March and April 2017.
The HPE ProLiant DL360 Gen9 servers make up many of the servers available for a Cashback deal in the months of March and April 2017 when purchased with a qualifying operating system. This new HPE promotion will run until 30/04/2017  and they are offering Up to £1000 Cashback when purchasing a qualifying HPE TopValue ProLiant Server and a qualifying HPE Windows Server Operating System. For a link to the claim form and terms and conditions, Click Here.
Discuss your needs with our team
In addition, the IT-Supplier.co.uk team of HPE server experts are waiting to help you decide which specific server and operating system will best suit your needs, so do not hesitate to call or email our team. We are trained to understand not only the technical elements but also integrate all the current manufacturer HPE offer's so that you leverage the best of our technical and commercial expertise.
Also, find this as well as many other servers eligible for Cashback, visit http://it-supplier.co.uk/.